I've been an advocate of google apps from its inception.  Google really pushed using a web interface as the future platform for mail.  It leverages cloud servers to perform instant search, malware scanning, and removes the burden of client vulnerabilities. Before, webmail was the low brow, free option for those that didn't have an ISP, paid, or hosted solution that they used with local clients, the likes of outlook.  Ultimately, keeping the data in the cloud makes having the data on all your devices, in sync, much more of a reality.  Sure things like exchange link or IMAP can give you an experience in outlook while keeping your data in the cloud, but all you end up doing is transferring a great deal of your data back and forth rather than just transferring the little amount of data needed to work in a web interface.
Because of all this, I have often suggested google apps to my clients.  Google is constantly adding features and at this point I can think of little I can't do with google apps.  However, there are a few things that one should know before moving to google apps.
Firstly, if any of your clients are going to use outlook, save yourself the trouble and get the premiere or business version so that you have access to Google Apps Sync for Microsoft Outlook…  an outlook connector that sync's up mail, calendar, contacts, and tasks between outlook and your google apps account.  Using IMAP with outlook is abysmal and POP should be out of the question if you want your data synced between devices.
The second issue you may or may not run into and further more, you might not care if you do.  If you have used Google Apps before, you probably know you can set up multiple domains as aliases on the primary domain.  This is great if a business has multiple domains, has changed the business name in the past, etc…  Even more rudimentary, you can add alias addresses on the same primary domain to your particular mailbox.  A common example would look something like this…
Primary Domain: primary.com
Alias Domain: alias.com
User: [email protected]
User Alias 1: [email protected]
User Alias 2: [email protected]
Because of the alias domain, John would have all those email addresses @alias.com also.  Now this is all well and good, and in your gmail/google apps account you can add any of these as alternate "send from" addresses.  But here we have the issue.  When setting up alternate send from addresses, google gives you the option of using the google outgoing mail server or your own outgoing mail server.  Because these other addresses are aliases and don't actually have their own mailbox, they don't have "their own" outgoing mail server settings which you can use.  No problem, you just do gmail's servers, right?  Well, yes, you can certainly do that and it will work but because gmail likes to be very compliant, it will add some header information that looks something like this…
If sending as [email protected] from the [email protected] account, the header would read, "From [email protected] on behalf of [email protected]."
The kicker is that the only common client that will show you this information, in your face, and not leave it hidden in the header, is outlook.  Now for clients that want to use outlook and want for things to look the way they are specified, this is a problem and using some other SMTP is necessary.
SMTP servers are not like they used to be.  There used to be open relay SMTP servers that are all but gone in light of huge global spam levels.  Other SMTP servers that are available will often have limitations such as changing the "send from" address to match the credentials used to access the server.  This is, for instance, what would happen if you tried to send mail using a normal gmail account credentials and smtp.gmail.com.
There are numerous paid SMTP services with free accounts but most are limited to 200 messages a month for the free account, an amount too small to be realistic for the avid email user.  Mailjet however gives you 6000 messages a month for their free account.  Sign up for a free account and setup your authorized addresses (the aliases that you will be sending as), or if you have a whole domain you can just add the whole domain in one shot.  Then you just copy the randomly generated username and password for your SMTP account and plug it into gmail for all your alternate send from addresses.   You'll end up with something like this…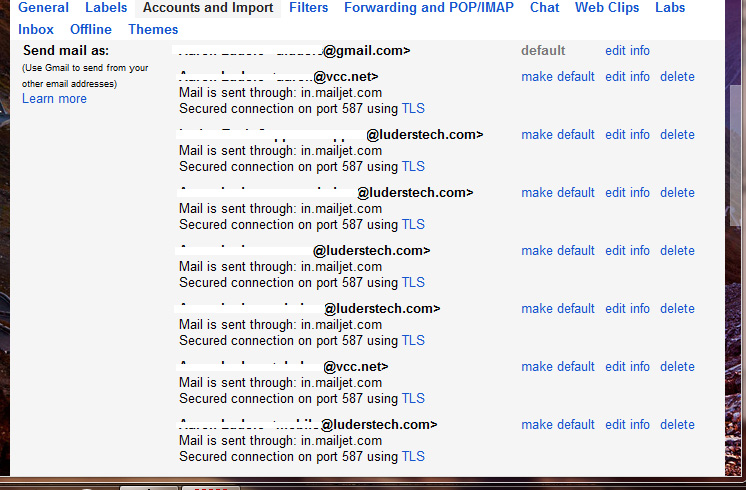 Mailjet also supports SPF and DKIM to further legitimize your alias addresses if you have control of the domain(s) in question.   I just did SPF and, as an example, my record looks like this…
v=spf1 include:spf.mailjet.com include:_spf.google.com include:spf.secureserver.net ?all
This says that mail sent via mailjet, google, or godaddy (my hosting) is authorized.
If you have a group of people who want to use mailjet SMTP you can set them each up with a free account and just avoid using the authorization of the whole domain on any one mailjet account.  Better yet, get a paid account, authorize the domain(s) and use the one login for everyone.  Paid plans start at under $10.
Note: You may want to turn off link tracking in mailjet otherwise any link you put in an email will be modified so you can see when someone has clicked a link.